Top Wedding Venues in Cape Town
Cape Town is one of the most incredible cities in the world. Some cities have incredible skylines, and others have mountain or ocean views. Cape Town has all of these, in abundance. There is no better place for a wedding, than the city that has it all. Finding the perfect venue is one of the biggest challenge you may face when planning your Cape Town wedding. Below you will find a comprehensive list of the Top Wedding Venues in Cape Town.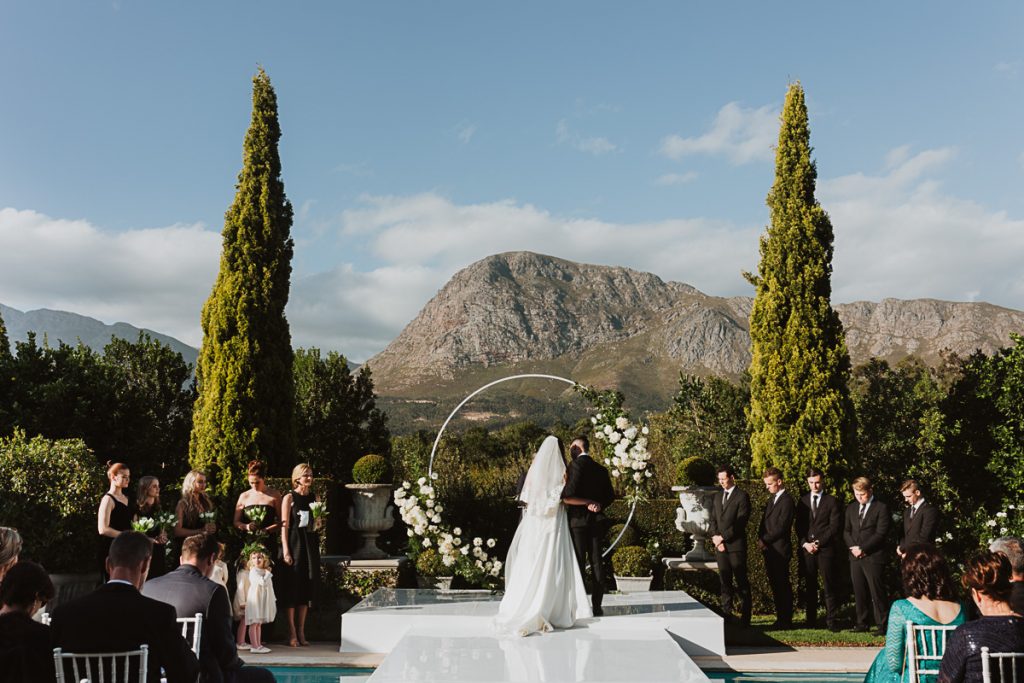 Boschendal Wine Estate
Boschendal Wine Estate is possibly one of the oldest wine farms in the Western Cape. Situated in the centre of Franschhoek, Paarl and Stellenbosch. It's only a 45 minute drive from Cape Town.
Several facilities are on offer, that can be tailored according to your style. We cannot help but mention the outdoor ceremony space overlooking the incredible mountains. The view will leave a lasting impression on you and your guests.
The Olive Press reception space can accommodate up to 200 guests. The dining experience is catered by their in-house chef and offers delicious farm-to-table dishes.
Boschendal offers accommodation on the property and plenty of activities. Your guests can spend the whole weekend here. On offer: wine tasting, mountain biking trails, horse riding, unique accommodation (check out Camp Canoe), markets and more.
We love this venue for the spectacular views, incredible food, and all the fun that accompanies it. You can't go wrong at Boschendal.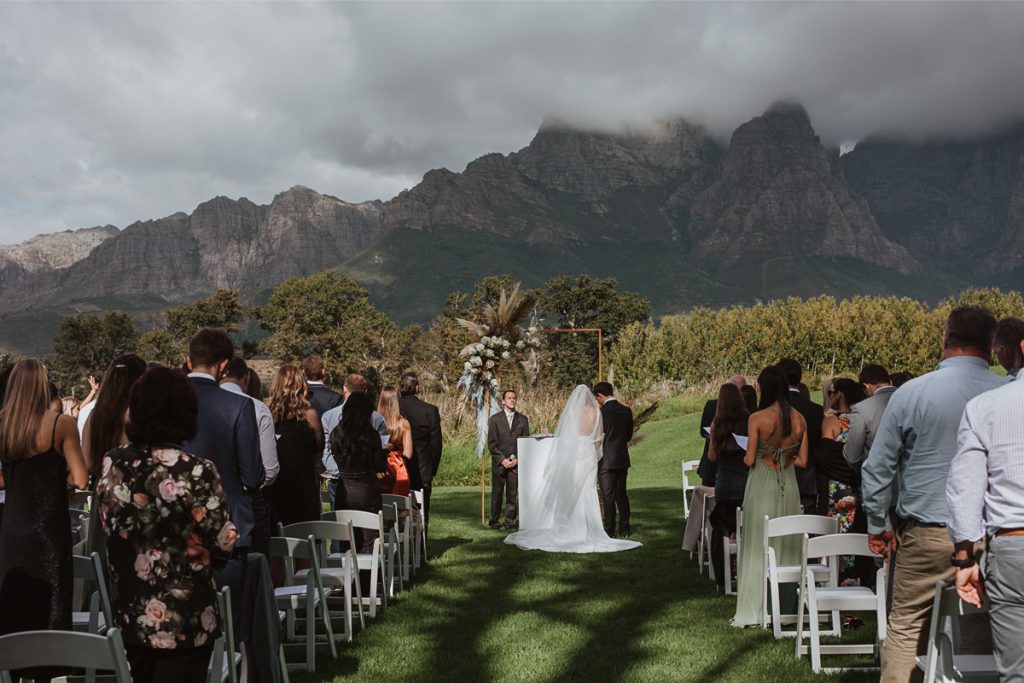 Babylonstoren
Top Wedding Venues in Cape Town
Babylonstoren is one of the oldest Cape Dutch farms located in the Franschhoek wine valley.
Wedding ceremonies at Babylonstoren typically take place outdoors. Options range from a classic set-up under the majestic oaks, to the House of Shadows located at the bottom of the gardens.
For your reception you have the choice of three old cellars (rustic, chic, or stylish) or go for something different with an al fresco banquet under the stars.
Babylonstoren is a working farm that produces an incredible array of produce. Fresh, seasonal produce – fruit, vegetables, herbs and edible flowers – forms the heart of any dish. Their culinary style leans towards simplicity.
This truly is a one of a kind venue, that offers everything you need; mountain views, incredible spaces, gardens for miles (did we mention the cactus forest and several greenhouses), and the best fresh produce and wine to be found in Cape Town.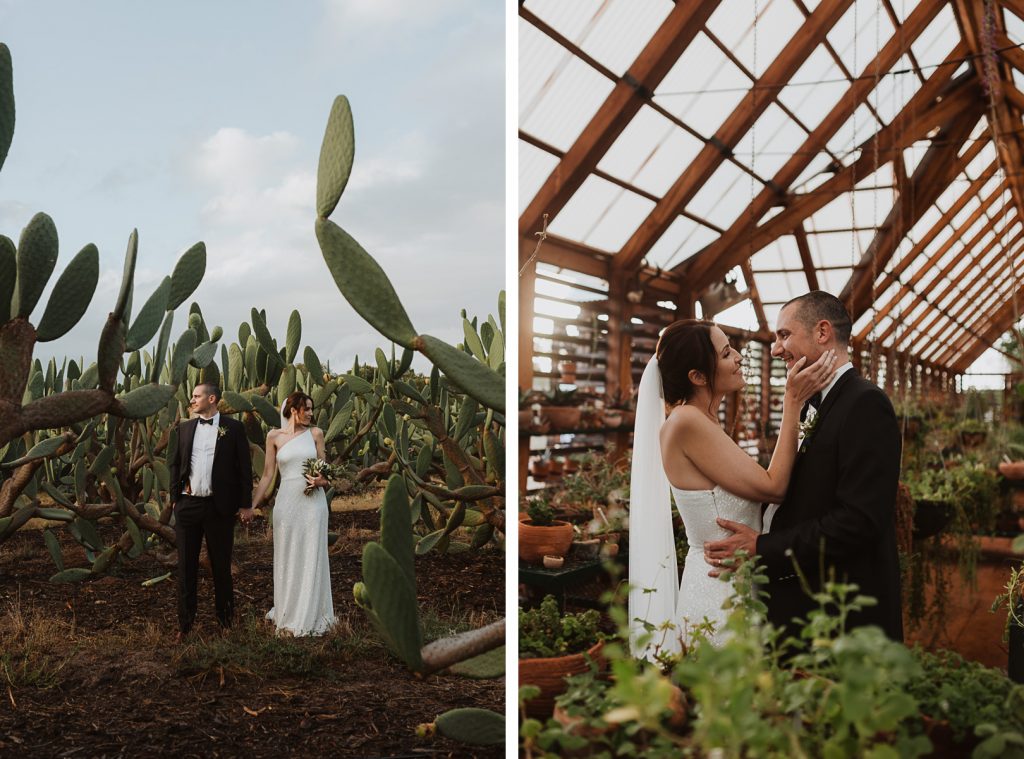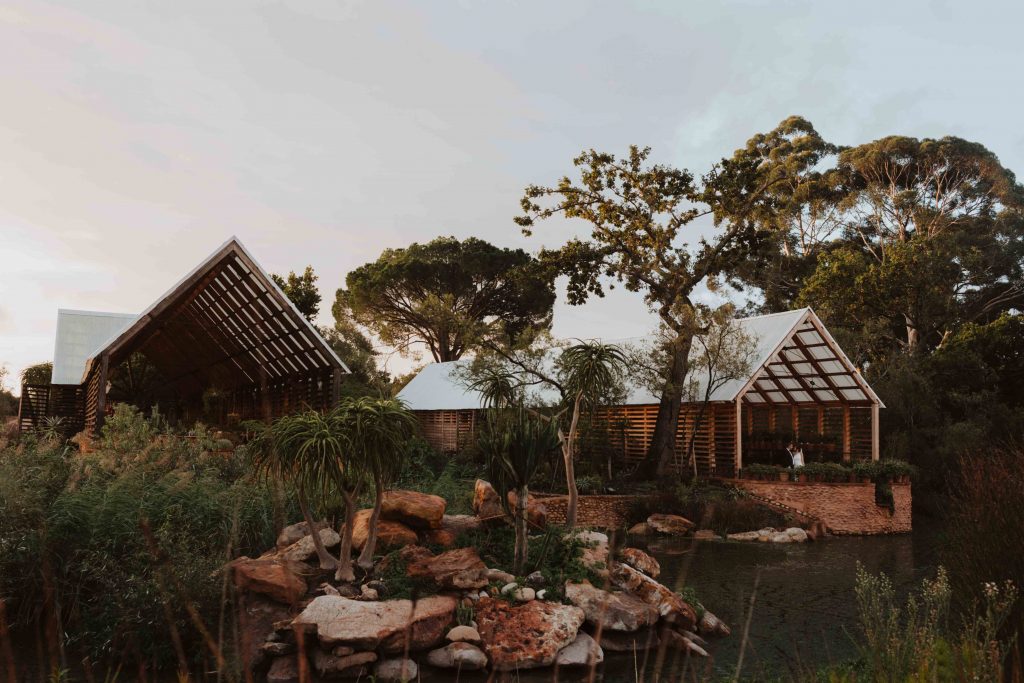 Bosjes
Bosjes is an architectural phenomenon that has become an icon in the Cape Town wedding scene. Surrounded by vineyards, orchards and fynbos; Bosjes is situated in the Breedekloof Valley and framed by the Waaihoek and Slanghoek mountains.
The Chapel, designed by Steyn Studio of London, was inspired by Scripture, Psalm 36:7. From the inside, glass walls offer uninterrupted views of the surrounding mountains, valleys and gardens.
Die Kombuis (The Kitchen) is the reception space which allows for banquet or canapé style dinner.
Bosjes can accommodate up to 100 guests and offers accommodation on the property for up to 20 guests (Bride and Groom included).
The Chapel truly is a sight to see, and will have your guest talking about your wedding for years to come.
Blaauwklippen
Blaauwklippen is one of the oldest wine farms in Stellenbosch. Magnificent scenery, historic buildings and striking design features makes this the perfect destination for your Cape Town Wedding.
This venue offers packages for intimate weddings of up to 40 guests at the Manor House Terrace. This is the perfect setting for an intimate celebration.
The Cathedral venue can accommodate up to 200 guests for those who prefer a more extravagant event. The Cathedral is a custom designed glass structure that offers complete exclusivity, magnificent views of the surrounding mountains and an unforgettable experience.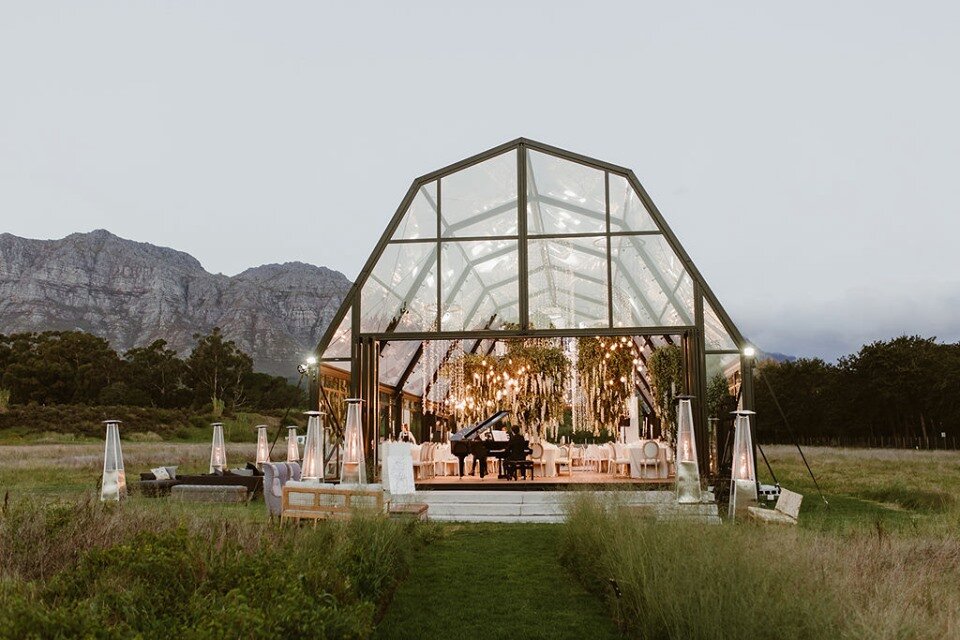 Cavalli Estate
Top Wedding Venues in Cape Town
Cavalli Estate is stretched across 100 Hectares of land located in the prestigious Helderberg region of Stellenbosch. The estate boasts vineyards, indigenous fynbos gardens, a contemporary restaurant, wine-tasting, contemporary art gallery, luxury boutique and a world class equestrian facility.
You cannot help but feel extravagant when you drive through the gates at Cavalli Estate.
The​ main wedding venue boasts a contemporary and nature design, which can be transformed to suit your design needs. With floor to ceiling sliding glass doors, you are provided with beautiful natural light and views over the water towards the mountains.
The Ceremony is held in a sunken garden with views over the mountains. This space feels royal, luxurious, and is the perfect setting for a wedding ceremony.
Top this all off with incredible food and wine to end the perfect wedding day.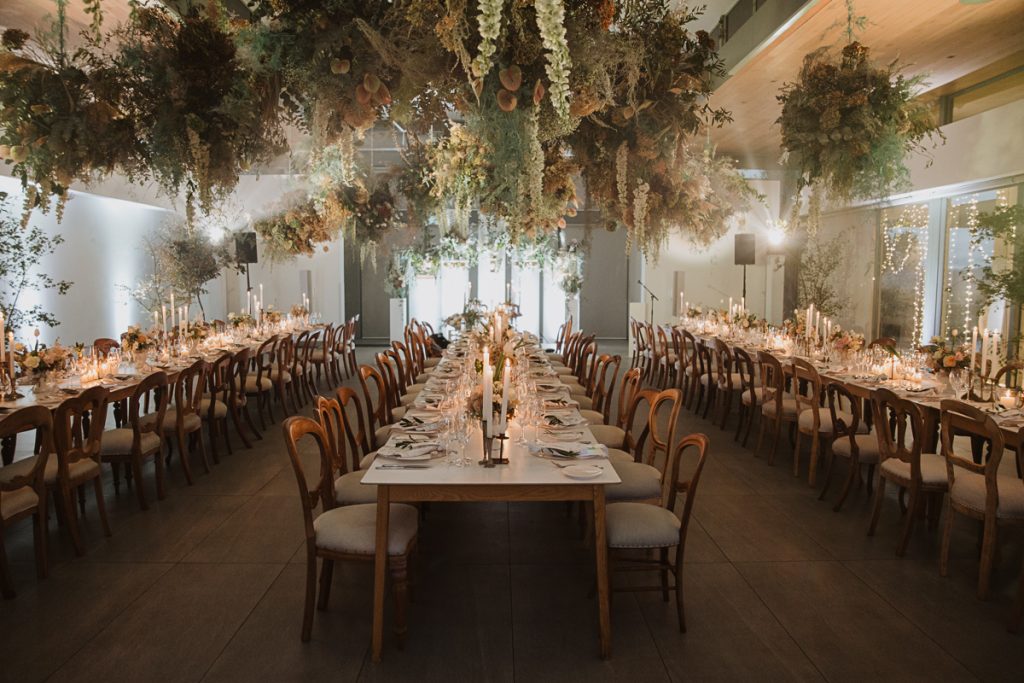 Die Woud
Celebrate with your loved ones under a canopy made of a glass structure, majestic oak trees & a wattle forest. This is what is on offer at Die Woud. Although this venue is about 2 hours drive from Cape Town, we couldn't leave it off our list.
This place is just magic.
Guests make their way through a nature walk towards the 'open-air-church'. Here they are seated in-between the towering wattle trees with the sounds of birds chirping as the Bride walks down the aisle.
A glass marquee will accommodate you for the evening, allowing the outside elements to be apart of the setting. As the sun dips behind the horizon and the stars begin to shine, the dance floor and atmosphere comes to life. This venue can accommodate up to 140 guests.
Die Woud also recently opened a new venue "Die Kleine Woud" for smaller weddings which can accommodate up to 60 guests.
Feel the magic of Die Woud on your wedding day.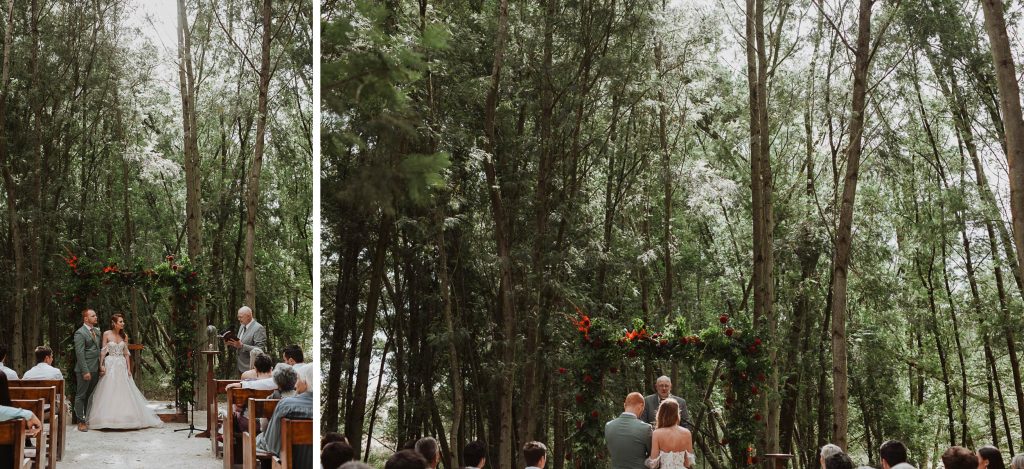 Johannesdal 1207
Johannesdal 1207 is a magnificent property located just outside of Stellenbosch.
This venue offers many different indoor and outdoor facilities. You can find whatever you envision here.
Johannesdal Hall is an indoor space that can accommodate up to 200 guests and has an enormous window overlooking the mountains.
Die Blou Kamer is a soundproof room suitable for a smaller wedding and caters to 100 guests.
Die Terasse are two large garden terraces with unobstructed views of the mountains. This is the perfect space for an open air ceremony and al fresco reception if you prefer to feel the western cape air while you dance the night away.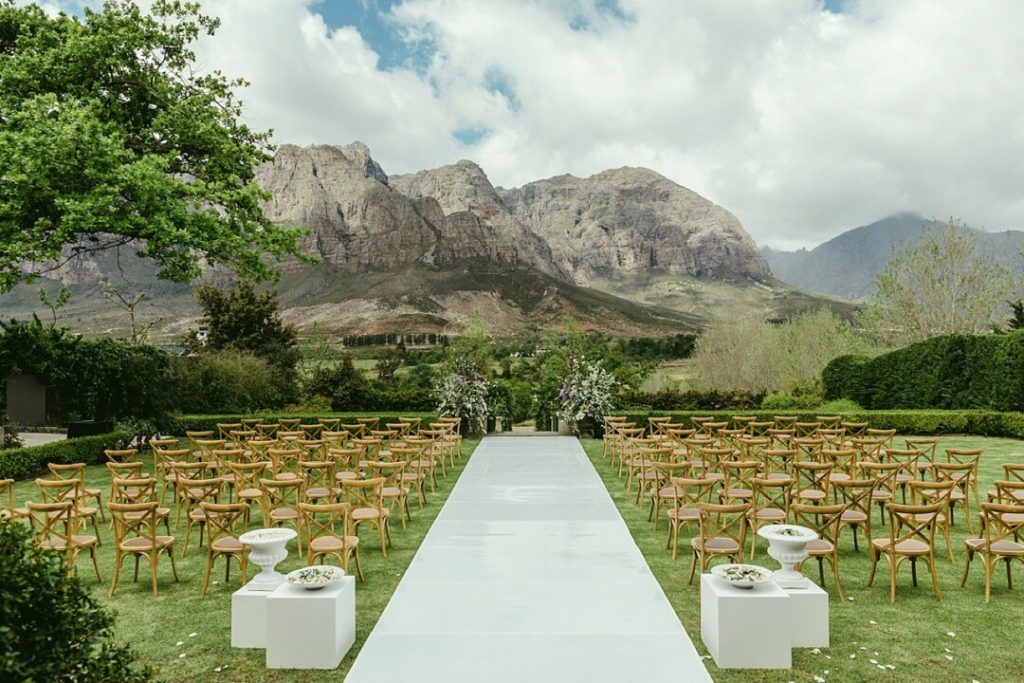 La Roche Estate
If you're looking for a flare of Italy in the heart of the Cape Winelands, then look no further than La Roche Estate.
La Roche Estate is a working farm that was re-established in 1988. They offer several unique locations for your "I Do's".
The Sanctuary was built on an island in the middle of a lake and boasts with high-arched glass entryways and spectacular views of the surrounding lake and mountains. It can accommodate 120 people for a ceremony or 60 people for a reception.
The Pear Tree Grove offers elevated views of the mountains and vineyards and is the ideal spot for an outdoor ceremony or pre-drinks set-up.
Lastly, The Festival Hall, is the grand venue that can accommodate up to 180 people for a banquet style dinner. The antique wooden doors lead into the opulent Bacchus Lounge and Bar. The Halls boasts heated terracotta floors, high ceilings, wooden beans and Italian roof tiles.
You'll feel like you are in the Italian Countryside if you book your wedding at La Roche Estate.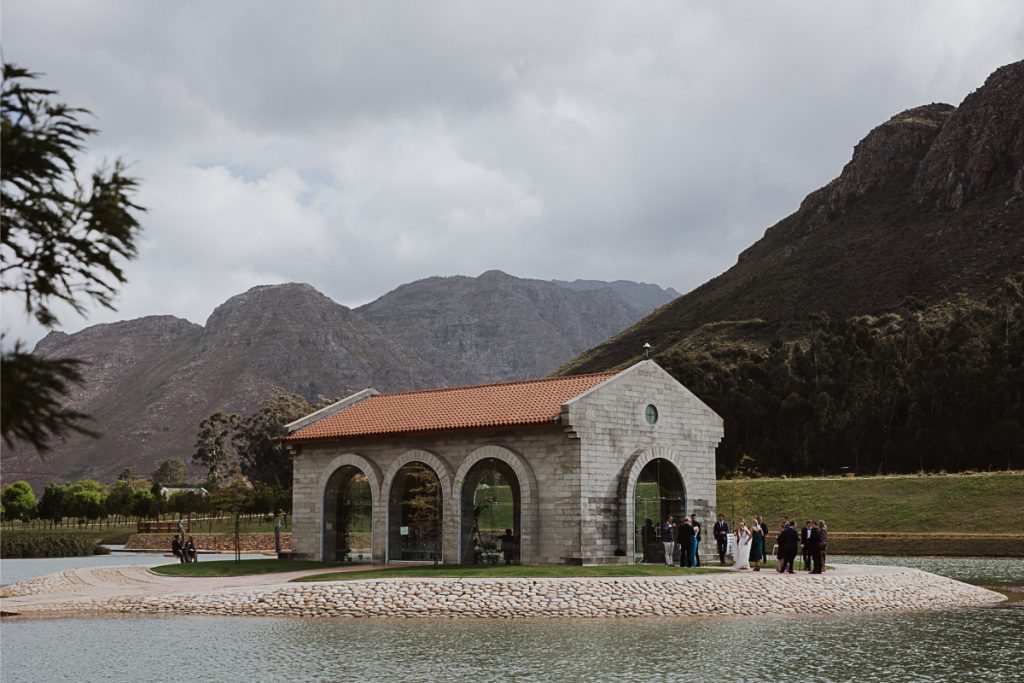 MolenVliet
MolenVliet is nestled on the banks of the Banghoek River in the heart of the Stellenbosch Wine Country. This venue is a boutique Wine and Guest estate with panoramic views of the surrounding mountains and vineyards.
The Venue displays hints of Cape Dutch features, which has been designed to adapt to the design of any wedding.
The open-air Courtyard overlooks the veranda and deck facing the vineyards. It caters to smaller functions or pre-reception drinks.
Wedding Ceremonies can be hosted in the landscaped gardens or in-between the Vineyards. The Venue at MolenVliet is fully equipped with state of the art equipment and comfortably seats up to 250 guests.
MolenVliet also offers multiple Luxury rooms on the property. Choose from a selection of suites, cottages, or the Manor House consisting of 6 double en-suite rooms.
For a more comprehensive view of MolenVliet, have a look at this Wedding Film.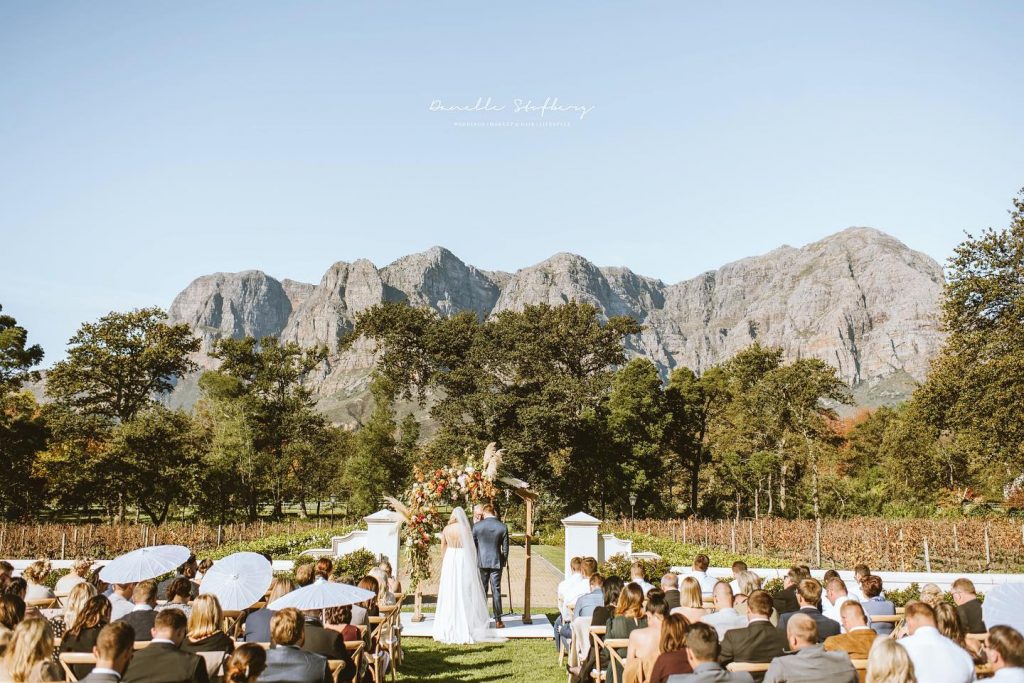 Tintswalo Atlantic
This is the only venue on our list with an ocean view. Tintswalo Atlantic is lodged between the Chapman's Peak mountainside and the Atlantic Ocean and offers a dramatic backdrop for unforgettable experiences.
This is the venue for you if you've been dreaming about a ocean view and sand between your toes as you walk down the aisle.
The versatility of this venue means that it caters to all, no matter the size of their party. Their packages rang from 2- person Elopements up to larger weddings of up to 150 guests.
As mentioned previously, the dining experience is an integral part of a wedding day. This venue specialises in creating a memorable dining experience for you and your guests. The executive chef works with you to create your ideal seasonal menu, that will leave your guests hungry for more.
Not to mention having your couple photos taken directly on the beach with the most spectacular view of the ocean and Hout Bay Peninsula.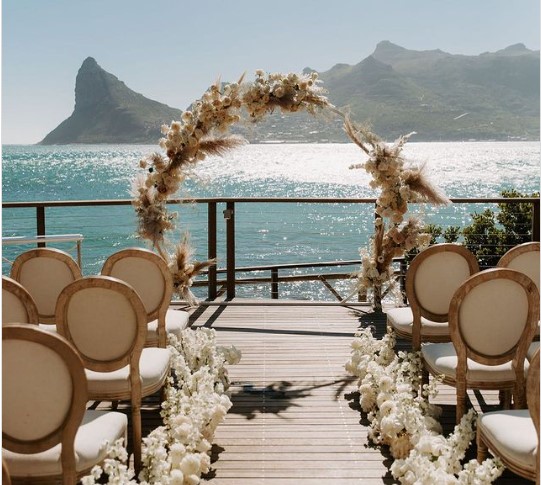 Top Wedding Venues in Cape Town